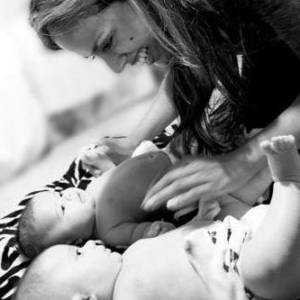 My holistic approach to health and wellness looks at how your overall life impacts your physical and emotional wellbeing. For instance: How does life's juggling act wear on you and your body? How does the stress of work or personal relationships affect your eating habits and sleep patterns? What role does your family history and childhood play in your life today? My approach is to help create a blueprint or a map of how YOU want to LIVE and FEEL. I don't count calories, push any one diet or avoid fat, I look to create sustainable lifestyle to suite your own individual needs, goals and hopes.
As a busy mother, wife, daughter, friend, yoga teacher and health coach, I understand the pressures one feels on a day to day basis. The pressure we put on ourselves to be "superwoman" or "superman". After graduating from university, I started my path in a fast-moving corporate career for over 10 years until my juggling act included twin baby girls. The act got complicated and overwhelming fast. The physical exhaustion I could handle, it was the emotional exhaustion that pushed me to make real, scary changes to my life. I decided to trade in my suits and stilettos for my yoga mat, plenty of books and started creating a lifestyle for ME.
The plain truth is that, happiness and health is an inside job my friends, you need to do the work, make the commitment to BE your best self. You must have a single point focus for your health and happiness- unapologetically.
Read more >>
I graduated as RYT, Registered Yoga Teacher and a few years later coupled this with becoming a certified Health & Wellness coach. I teach people on how to get and be healthy from the inside out. My expertise is in helping people with their dietary habits, lifestyle and emotional well-being, all three go hand in hand.
My other passions outside of yoga, health and everything wellness is food and wine! I love food and wine! My previous corporate career afforded me a lifestyle rich with casual and fine dining. It was a wonderful journey filled with new experiences in the culinary world. From the casual to the most decadent of meals that created a passion for food that stays true for me today. You will often find me at the latest and greatest restaurants that emerge throughout the greater Vancouver area or anywhere my travels take me.
It is this sense of balance, that is so important to your health and happiness. You don't need to feel deprived, you need to know what is working for you and what isn't.
The program I offer is individual, personalized and tailored to what your goals and hopes are. From losing weight, tackling digestive battles to feeling and learning on how to be and feel healthy.
So if you're ready? I've got you.
Much love,
Charlene

<< Read less